Since initially writing this Lime has started to reintroduce masked JUMP bikes into the Atlanta area.
I recently built up a reclaimed JUMP e-assist bike. These bikes were everywhere in Atlanta. I rented them pretty regularly myself. Eventually JUMP pulled out of Atlanta and these bikes disappeared. Several months afterwards though, I started to notice a few JUMP bikes sitting in abandoned lots and ditches. They had all been picked over. One was missing a front wheel, another a battery. A third bike was mostly frame and rear wheel. I quickly realized that between the three bikes there were enough parts to cobble together a complete bike. This got me down a rabbit hole learning more about these bikes. I had to scrape through lots of bits of information around the web. I also learned a lot about these bikes during the teardown.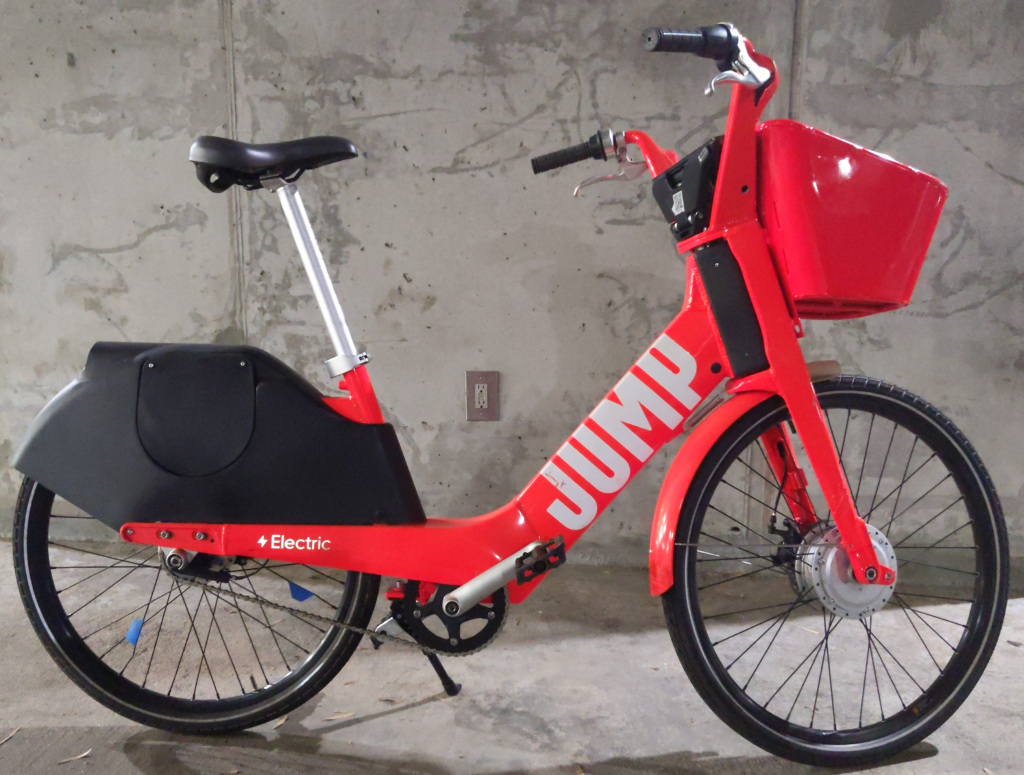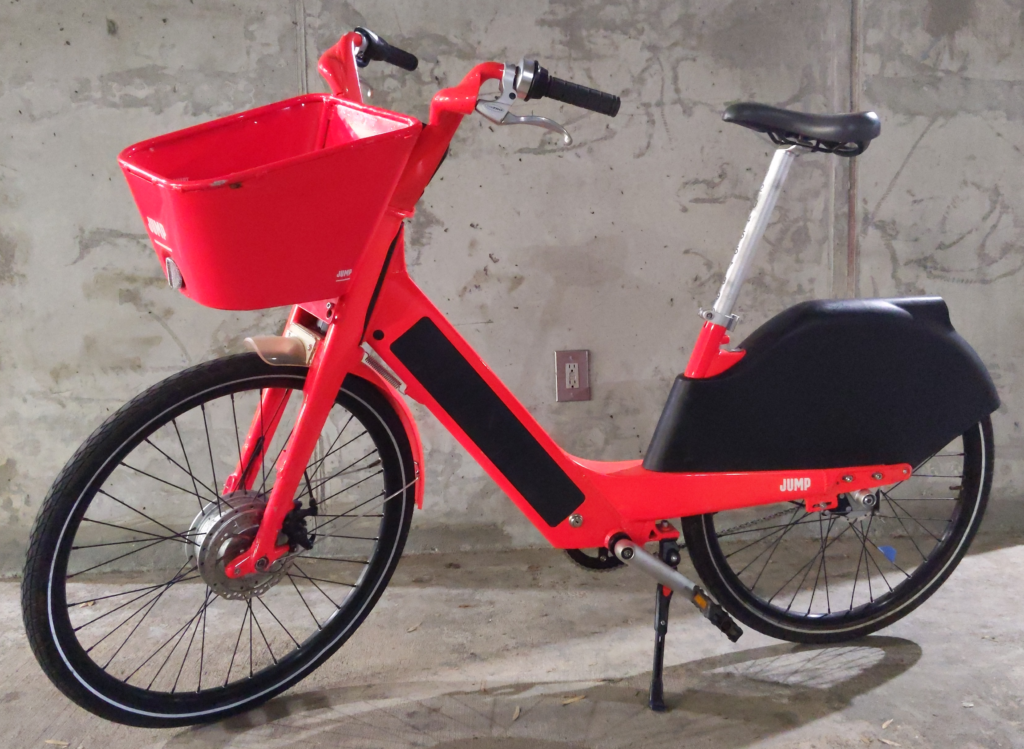 Why is this interesting?
I took on such a silly project because I find these bikes, and the story around them, so fascinating. These are simultaneously "modern" technology but also "a piece of history" because these bikes are mostly gone now. These bikes are only three years old but there are only a handful of them left out there.
I also love working on weird bikes. Especially bikes where I have to research and piece together parts from different manufactures and eras. The combination of a conventional three speed bike, (mostly) Bafang e-bike components, and unknown modifications which JUMP added, really made for a weird mix.
Is this legal?
Is this legal? In my opinion, yes, this is totally legal. I rescued these bikes from ditches and abandoned lots. I wouldn't call these bikes "trash". I understand the hyperbole, but I think of these abandoned bikes more as pollution. JUMP has since been sold to Lime. Lime has since pulled out of Atlanta. If Lime wants this bike back they can come and pick it up. I'll only charge a small storage fee.
History
In September 2019, JUMP pulled it's bikes from Atlanta. In May 2020, Uber sold JUMP to Lime, which had already left Atlanta in January 2020. Jump bikes were pulled from most other cities in the US around this time.
Now however, Lime is re-releasing some of these bikes in Sacramento, Milan, and Melbourne.
These bikes have also ended up in the private hands of others like me. Others have bought them at police auctions. A company is trying to wholesale them. Some local nonprofits have saved them up in Mexico City, Eugene, and Buffalo. One even popped up on eBay for $900!
After Jump pulled out of Atlanta, I started to see these in ditches or abandoned lots. I eventually found three partial bikes. After looking over each one I realized that there was at least one complete bike among all the parts. I then picked them up and took them back to the workshop.
Description
These bikes are a combination of off-the-shelf bike parts, off the shelf e-assist parts, and custom designed hardware and circuitry by JUMP.
The aluminum frame / fork combination is a custom designed and built by JUMP. All of the non-JUMP branded bikes, like the Blue Bikes in New Orleans, are in fact JUMP bikes. They did not buy white-label bikes designed and fabricated by another company. The "headset" is a weird screw-in design. The bottom of the "headtube" rests on the crown race like a normal bike, but the top bearing is captivated by a screw-in cylinder which acts as both the pivot point for turning the fork and provides tension on the bearings. Instead of a locking jam nut, these bikes have a small screw that blocks the cylinder from rotating. The custom bars then mount directly to the fork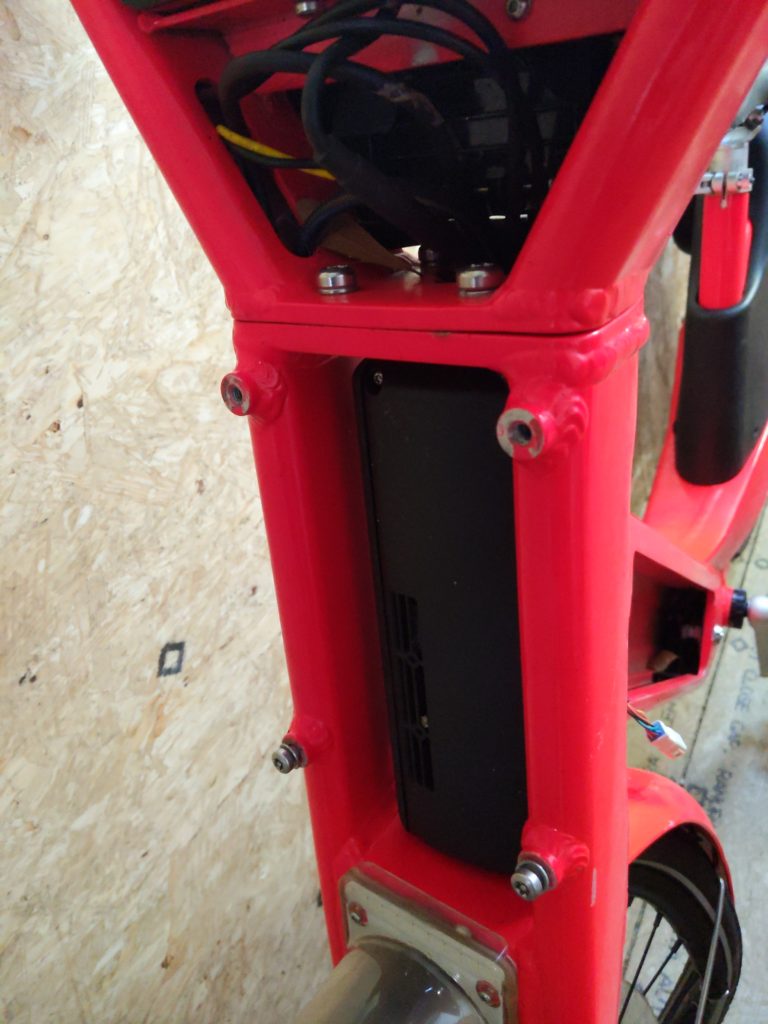 Bars mounted directly to fork. Bars removed, revealing top of fork/headset with locking screw.
Most of the e-assist circuitry is housed in the large cavity in the headtube, accessible from a cover plate on the front. A main wiring harness connects a battery in the downtube, a torque sensing bottom bracket, a lock and rear light on the "seat stays", a front light between the fork crown race, and a charging port on the right fork blade. Additional wires run up to the "dashboard" and another charging port under the right brake lever. All of this wiring is run internally and makes for a clean exterior.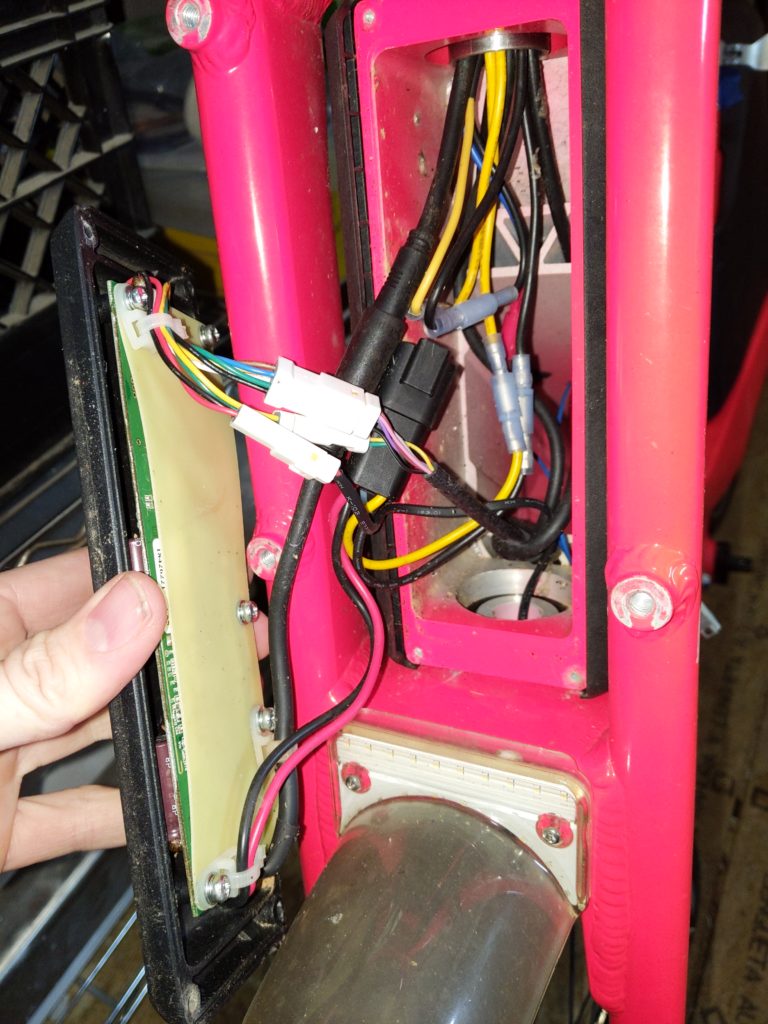 Removing the "headtube" cover reveals the main electronics.
The human-powered drive is achieved from off the shelf pedals, custom JUMP cranks, the previously-mentioned Bafang torque sensing bottom bracket (SR PA231.32.ST.C), off the shelf no-name chainring, single speed chain and sprocket, and an off the shelf Sturmey Archer three-speed internal geared hub (RXL-RD3). The hub is controlled by a Sturmey Archer three speed grip shifter.
Front e-assist power comes from a Bafang 350 watt hub (FM G020.250/350.D ), powered by a custom JUMP 36v battery, running through a custom JUMP motor controller. The controller takes input signal from the Bafang bottom bracket.
Front and rear wheels are both 26 in. I found a few different off the shelf tires on the five wheels I was able to save, but they are all similar width and tread pattern. Front brakes are off the shelf Tektro lever, and Tektro Areis mechanical disc brake. The rear brake is also controlled by matching Tektro lever running to the drum brake in the Sturmey Archer hub.
All of the brake and shift cables are conventional off the shelf bike components. Cable housing runs the entire length of the cable. The frame has a few bosses that hold this housing, but the cables are never exposed as on many conventional bikes.
The front and rear fenders are part of the custom JUMP designed frame. The same with the front basket, seat post, saddle, front and rear lights. All of the kickstands on my salvaged bikes were damaged so I couldn't get any information on them. The bell is an unbranded off the shelf variety.
The bike locks in two ways. First there is a cable lock attached to the rear fender. This housing also contains the second lock: a solenoid which positions a pin between two spokes preventing the bike from rolling.
The bike contains a few extra "bits" that hold the rear fender/ lock and tension the chain on the rear wheel.
What makes this bike special
These bikes were designed by JUMP for JUMP's customers. They were designed to be abused as part of a bike share program. They were dropped, kicked over, wrecked, and thrown in the back of repair vehicles. All of the bikes I recovered had some damage, in addition to the scavenging.
The frame is both a work of art and a mess of welding. This bike is a step-through frame. Only a single "tube" connects the front and rear halves. It needs to support people of all weights. The frame also needs to house a huge battery. These constraints mean that the main structure of the bike is enormous. The downtube is a box shape with internal structure for cable routing. The headtube is exposed at the front, providing access to the downtube. The rear "triangle" is quite small to accommodate very low saddle heights. There is 10 inches of saddle height adjustment.
Despite the huge weight, this bike feels very light when riding. Because of the low gearing, upright riding position, and a spring which helps center the fork, this bike rides very smoothly. The steering is not very nimble, but that is to be expected. This is the heaviest bike I've ridden, by a good margin. Without any e-assist it is an odd sensation to experience the momentum of this bike as it coasts a very long distance. Stop pedaling and the bike feels like it is still pulling.
What sucks
These bikes were designed to be as theft-proof as possible. The anti-theft design decisions are some of the oddest of any of the design decisions on these bike. Most of the bike is assembled with tamper proof Torx screws. Some of the off-the shelf bike parts are secured with conventional socket screws and Torx screws. The pedals, crank bolts, axle nuts, seat post locking bolt, battery cover, lock cover all had various other security fasteners. I find it weird that the brake levers, and front brake caliper were fastened with regular Torx but the cheap plastic pedals were screwed in with some sort of torx/pentalobe hybrid. Is there really a demand for stolen and abused plastic no-name brand bike pedals?
One of the more obscure fasteners were two "amoeba" shaped screws. One was used to secure the Sturmey Archer drum brake barrel adjuster, with a conventional nut on the backside. I don't understand this decision at all. These "amoeba" screws were likely "keyed" specific to JUMP. They probably cost way more than a standard hex socket screw. Yet they were mated to a standard hex nut. The security of the screw is doing nothing if the nut can be backed off with a simple spanner. The other amoeba screw was used to keep the seat post from pulling out all the way.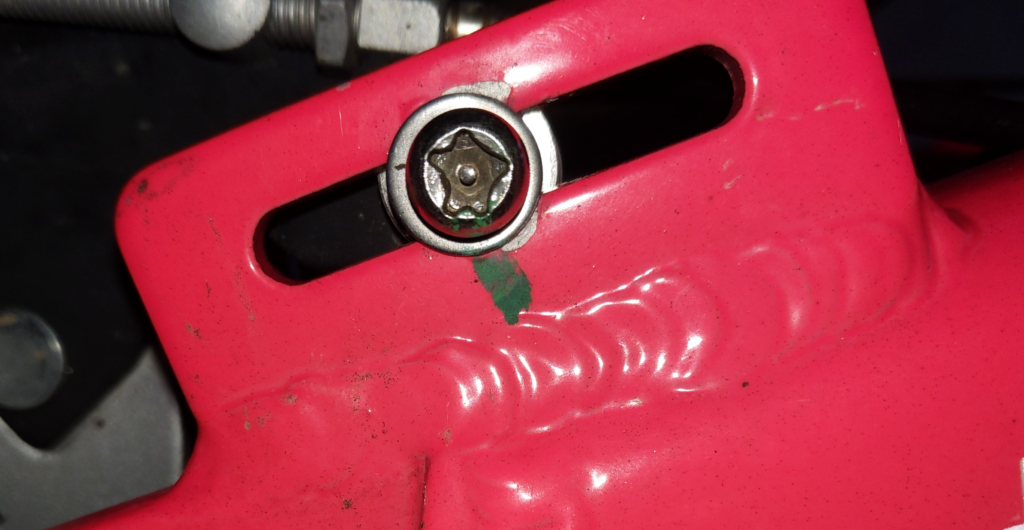 "Amoeba" screw securing the drum brake arm.
The front and rear wheels are secured with seven-sided axle nuts. The frame and fork provide cover for these nuts to prevent getting at them with any sort of pliers. I had to remove them by making a custom socket. I started with a 12 point 17 mm socket and filed the outer and inner lips down to clear the tight spaces. I then hammered this socket onto the nuts.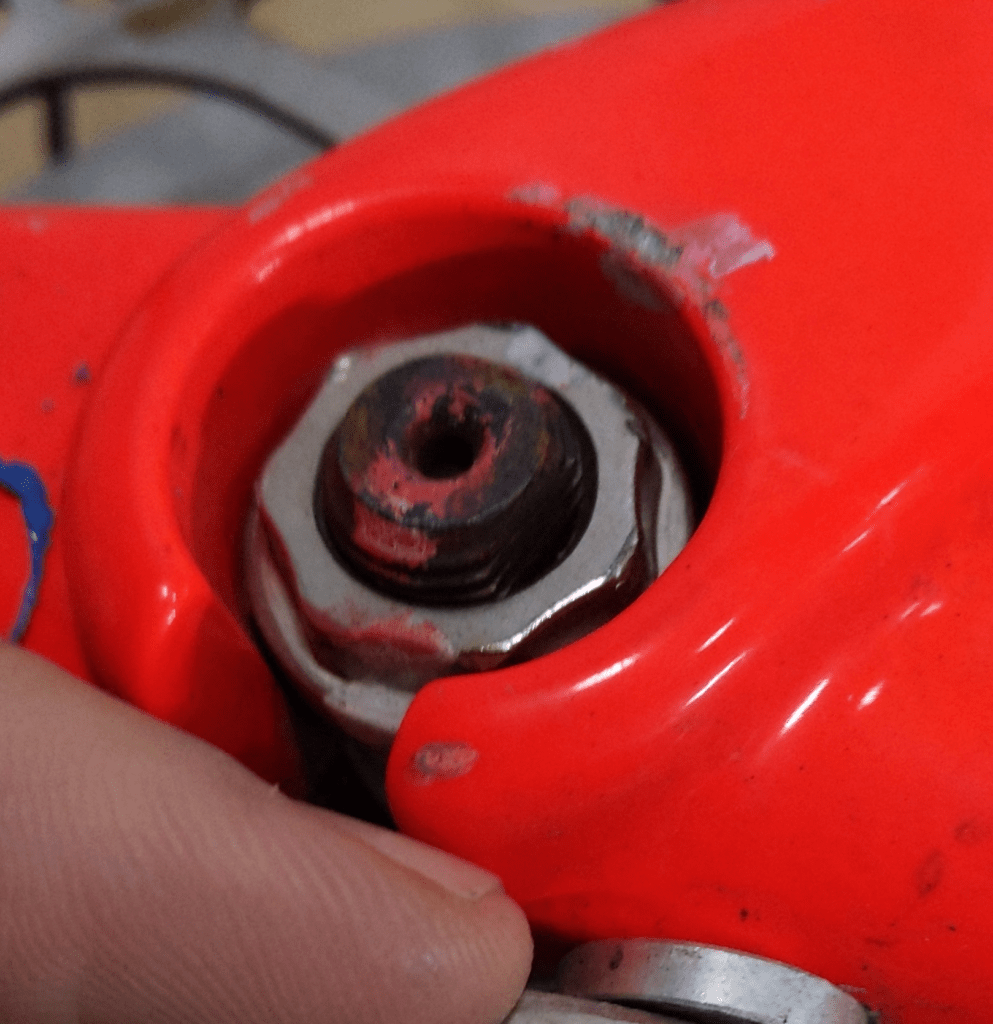 Seven sided axle nut, and fork surrounding the nut.
The battery case is secured with a conventional 7 pin tubular lock.
The last odd-ball fastener was used only for one purpose, to secure the cover to the lock mechanism. It was a diamond shape with a tamper-proof pin in the center. Because of it's oblong shape, it was quite easy to jam a flat-blade screwdriver into the long axis of the diamond. After enough attempts the security pin broke and the fastener backed out quite easily. Once the cover is off, the entire lock is removed from the bike with two tamper-proof Torx.
I don't understand why they had so many different types of screw heads, or why they use some of the more secure types to protect some of the cheapest parts of the bike.
Working with the e-assist parts posed the most trouble. The hub and bottom bracket are stock Bafang components. However they are from Bafang's OEM line, which they sell directly to e-bike manufacturers, not part of their consumer line. So I was not able to find much information about the hub and almost no information about the bottom bracket. Both mate to JUMPs custom controller. The battery contains two cables: one for power discharge/recharge and another 8 pin control that "unlocks" the battery and probably reports temperature and battery level. Getting all of this working provided the biggest challenges.
The internal cable routing on these bikes is ridiculous. The cable housing makes some very tight bends to guide the rear brake and shifter cables through the bars, fork, headset, into the downtube, over the bottom bracket and out the left and right chain stays. Working on these bikes must have been a massive pain.
What did I do to my bike
To get my bike back together, I first disassembled each bike and cleaned all of the parts with soapy water and degreaser. I labeled all of the electrical connections. In addition to using security fasteners, JUMP used gobs of thread lock on every fastener. So I re-tapped every thread on the frame and all of the components to remove any residual thread lock. The headset bearings were in surprisingly good condition so I left those pressed in the frame. I'm not sure what it would have taken to press them out. I then took inventory of components that needed replacement. I ended up buying:
chain
cables / housing
disc brake pads
grips
pedals
kickstand
I also had to hammer out a few dents in the basket and front fender. These look decent, especially considering the life this bike has had.
For reassembly I replaced every security fastener with hex or Torx. I had most of what I needed on hand, but picked up a few additional fasteners from McMaster. I also replaced the 5 point torx/pentalobe crank bolts with hex ones. I also replaced the 7 sided axle nuts. Oddly the rear Sturmey Archer hub didn't take Sturmey Archer imperial nuts. Instead it took M8 x 1.00 nuts. The axle nut covers on the front fork prevented normal axle nuts from fitting, So I had to turn down the outer diameter of the nuts to fit. For completeness sake, I replaced the "amoeba" head fastener which was captivating the seat post. It has a special pin at the end to allow the seat post to slide up and down for adjustment without allowing it to slide out entirely.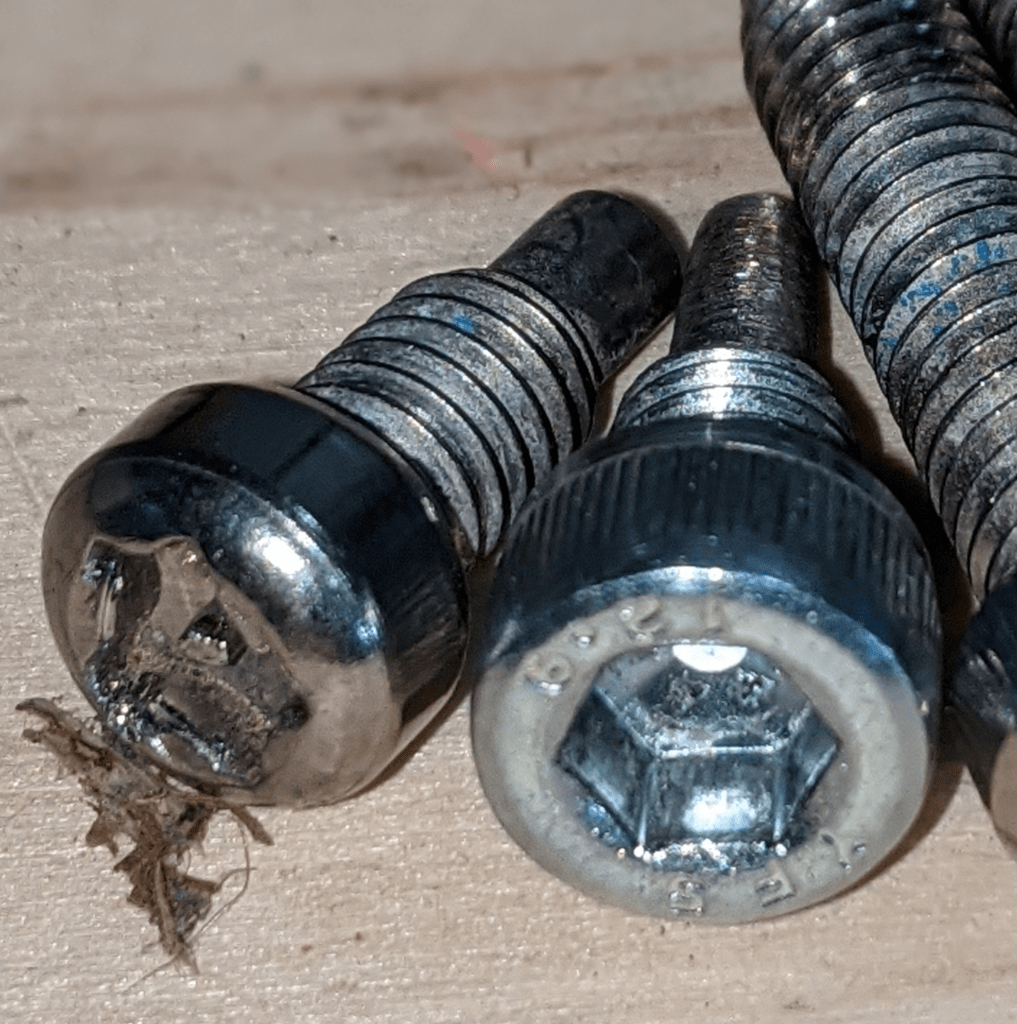 Original and replacement seatpost guide screws.
I noticed that the brake rotor was sometimes rubbing. Even with the caliper in its most outboard position, the post mounts on the fork itself were rubbing on the rotor. There was no accuracy in where they were welded on the two forks I had. So I filed down the posts to achieve some clearance.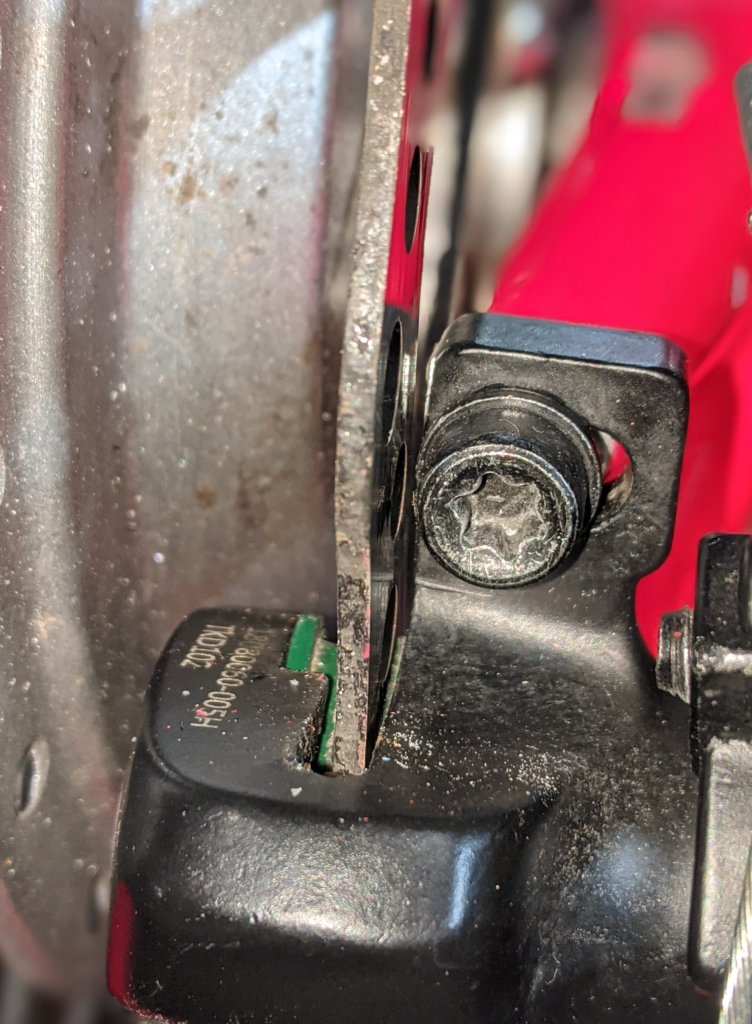 Rotor almost rubbing on caliper.
I also fabricated a plastic piece to cover the hole left in the rear fender from removing the rear wheel lock assembly.
I now have a working three speed bike. The electronics have been more complicated and I don't yet have them sorted. There has been a lot of internet sleuthing to get them working. I'll share those details in a separate post. This bike is a blast. I get a kick seeing people do a double take. It will be even more fun when I get the e-assist working. If you find one of these bikes
Teardown tool list
Here is the list of tools I needed to completely tear down my JUMP bike. I'm sharing this list because I feel that enough of these bikes have made it to consumers, through legal means, that everyone should know how to work on them.
hex (internal, i.e. allen wrench)
2.5 mm
3 mm
4 mm
5 mm
8 mm
hex (external, i.e. socket/spanner)
8 mm
10 mm
11 mm (??? maybe)
14 mm
22 mm (for back of tubular lock)
Torx
tamper-proof Torx
T-10
T-25
T-27
T-35
T-40
T-45
bike specific or other specialty tools
BBT-9 (or equiv. to remove external BB cups)
BBT-22 (or equiv. to remove internal BB lock ring)
28 mm cone wrench (to remove "headset")
CCP-2 (or equiv. to remove cranks)
CNW-1 (or equiv. to remove chainring bolts)
needle nose pliers (to remove chain clip)
weird or one offs
5-point Torx (probably T-45 size) for crank bolts and pedals. Given asymmetry of 5-point, use a very large flat-blade screwdriver.

diamond w/ security pin (to remove cable-lock cover). Given asymmetry and position on the bike, cut slot along long-axis of diamond and use flat blade screwdriver.

7 sided nut (for front and rear axle nuts) (can use 17 mm 12 point socket, ground down on the inside and outside lip)

"Amoeba" shape (multiple sizes?) for seatpost locking and brake arm on hub to frame. Remove the brake arm one by removing the nut on the back. To remove seatpost lock, grind slot in face and use flat blade screwdriver
I'll talk more in future posts about the electronics setup, why these bikes suck and you should never buy one, and why I think people overreacted when JUMP announced it was scrapping these bikes.