I painted another pair of shoes, this time for my friend, Jaime Walker. I call them "walkers". Rather lame, I know. I started with Vans KVD's, courtesy of Rená at Abbadabba's. I used the same brand paint as previous shoes and added purple tulips with green stems. I then outlined the flowers with a fine-tip permanent marker. I began by using a "very fine" tip, however the paint dried out the marker tip. I then switched to a fatter "fine" tip marker and with enough finesse, I was still able to draw very thin lines.
I decided not to dye them because I have had problems with other shoe-dying projects lately. When dying bright colors such as red and navy blue, both the canvas and the rubber changed color. Also, as I learned the hard way, it is impossible to bleach black canvas Vans white. I tried to make white shoes with black soles by starting with the black/black Vans slip ons. The fabric disintegrates very quickly and begins to rip after coming into direct contact with bleach.
Anyways, I learned a lot during this project about delicacy and patience. Its not easy to fix a mistake on white canvas. Slight smudges of purple are obvious in one of pictures below.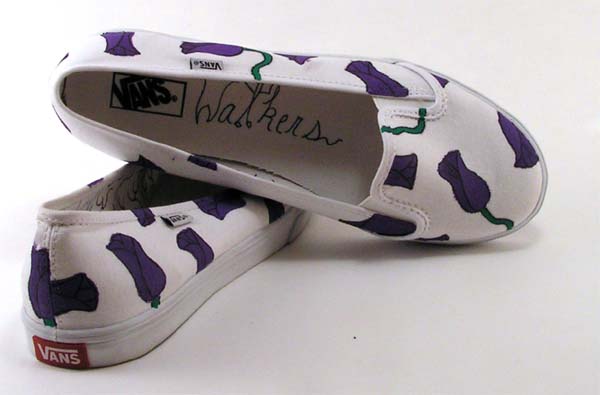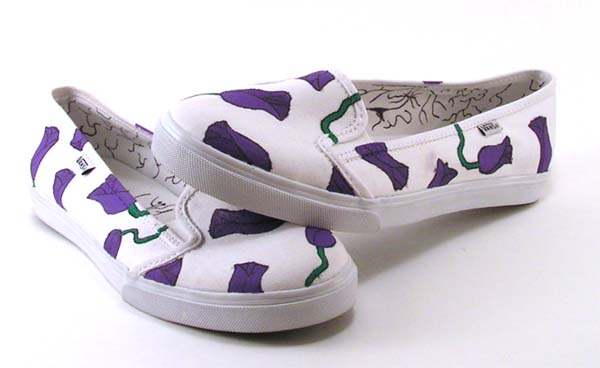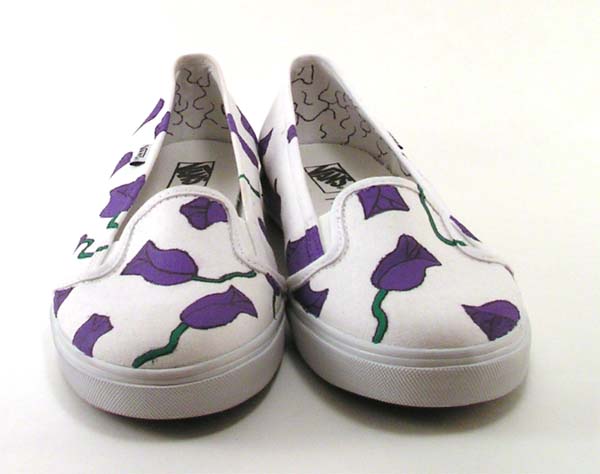 I also decided to photograph the shoes using my newly-built light tent. I found a very easy and well explained tutorial on making a light tent at Strobist. However, I would highly recommend not removing the "bottom" of the box:
You can choose to leave the "side" of the original box that will form the bottom of your studio attached to make it stronger, but it will preclude your ability to place the box down over an object (like a plant) outside and retain the surrounding ground environment. Your choice.
The bottom has a huge effect on sturdiness, and really extends the life of the light tent. It makes setup and transport much easier. I now need to invest in some more uniform lighting. The post-shoot level balancing in Photoshop revealed some inconsistencies in lighting from left to right.