This year, like last, I decided to hold the Santa's Little Messenger Bicycle Race benefiting Atlanta's Toys For Tots program. The concept behind the race is that individuals and businesses around town, who were going to donate a toy to Toys For Tots, register the toy with me via a web form instead of finding a local drop off point. Then, on the day of the race, riders picked up the toys and returned them to the "base". Two categories of racers (solo and two-person teams) competed to earn the most "toy miles".
The race began almost immediately with a terrible rain storm but all the riders really toughed it out and did a great job. This year, seventeen racers (six teams and five solo racers) collected 96 toys. The complete results are available on Faster Mustache.org.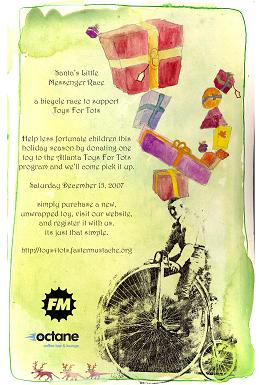 I put in a lot of time and effort for this race, specifically in areas that I am not an expert. I began by reworking last year's website . I asked my friend Elizabeth Charrow if she would put together some artwork for me to use on the website and in adverts for the race. She did an amazing job and I think it became the highlight of the whole project. All-in-all I Photoshopped up handouts to encourage donations, handouts to encourage race participants, large format flyers, and spoke cards. Everything came out amazing! I also did a considerable amount of the flyering. I walked all over Cabbage Town and Inman Park going door-to-door putting flyers in mailboxes. I also rode around to local restaurants putting up flyers talking to people.
My friends Julian and Jaime also helped endlessly. The two of them are responsible for most of the toys donated. I also want to thank everyone at the Kroger and Target pharmacies and Outback Bikes; combined they donated over 45 toys.
To celebrate and give out the awards, I organized a small party at Octane Coffee Bar the night of the race. Racers came out and drank and we gave out free beer to anyone who had donated a toy. I had all the toys on display for everyone to see that they did such an amazing job!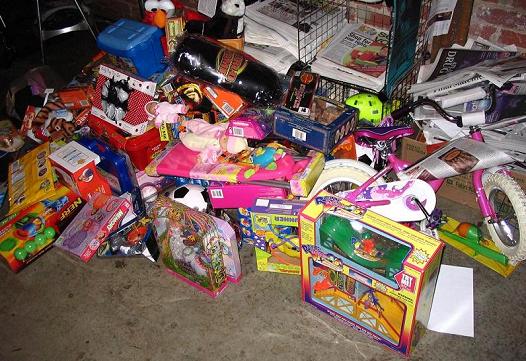 Yes, thanks to everyone at Atlanta Velo Exchange, a girls' bike was also donated.