I'm sharing the story of a bad situation I had ordering a new phone through Google Fi. It turned into a two month long ordeal where the service got worse and worse. At every turn the Google Fi team was presented with a chance to make things better and every time they blew it. I'm sharing this because I hope a long form review of the process is helpful to other potential Google Fi customers.
I've been a Google Fi customer since Sept 2016, when it was called Project Fi. Recently I decided to update to a new phone, so I ordered a Pixel3 through their website. With Fi you can get a phone up front and then make zero-percent interest payments as part of your bill. Once you've paid for the phone, at no more total cost than if you'd prepaid for the whole thing, it's yours free and clear. I bought my first Fi-supported phone, a Nexus 5X, this way and it was very simple. I also tacked on $7/month "device protection" to my bill. So in total my bill would jump $35 a month.
The device shipped the same day I ordered it. A few days after shipping I noticed that my package had not updated on Fedex's website. So I began to seek customer service help. That's when things took a turn for the worse.
Google Fi has a "chat with customer support" feature that is integrated into their website and Android app. So I chatted with a rep about tracking down my phone. I got a very polite answer that yes they can confirm that the last Fedex entry lists my package on truck to be delivered. The rep escalated my case to the "shipping and returns" department and said I should expect an email in a few days.
After a few days I received no email. So I started up another chat had the same response: "email coming, wait a few days, we have to complete our investigation about how your package got lost". This happened three times over the course of a week. Each time I would wait patiently a few days, get no email, and then chat with them. On the third chat I finally got the representative to give me a case number. When they again promised an email I starting to get a little upset so I asked to speak to a customer retention specialist. At this point I wasn't really planning to cancel my account but I figured somebody in the "customer service of last-resort" department would surely be empowered to help me out. The rep told me that they don't have such a department and that if I wanted I could always cancel my account online. At this point I was a little stunned. I've never heard of a business that was receiving monthly recurring revenue act so quickly throw it away. I then realized that I couldn't cancel my account because I'd be on the hook for the whole $600 for the phone. If I canceled my account I would also lose all access to customer support since Google Fi doesn't have a public email or phone. I was effectively forced to stay a customer until I had this resolved.
After a few days I received my next monthly bill, the first one to include charges for my new phone. Paying $35 for a phone I don't yet have is a bit frustrating, so I decided to reach out to Google Fi on Twitter. I assumed a bit of public shaming would kick them into gear.
After getting strung along with a series of "we'll get back to you in 24 hours" from @googlefi customer support, they would rather lose my business entirely rather than cancel a lost-in-shipping new phone order.

— Jason Atwood (@_tir38) April 14, 2019
They promptly responded
Hi Jason. That's not the experience we want you to have. We'd like to look into this. Please follow us & let us know when you do so we can reach out over DM.

— Google Fi (@googlefi) April 15, 2019
I thought, "Ok great now I can get this resolved." However once we switched to a private direct message conversation I got the same "Hang tight we're work on it". After checking in politely for a few days they finally stopped responding to my messages.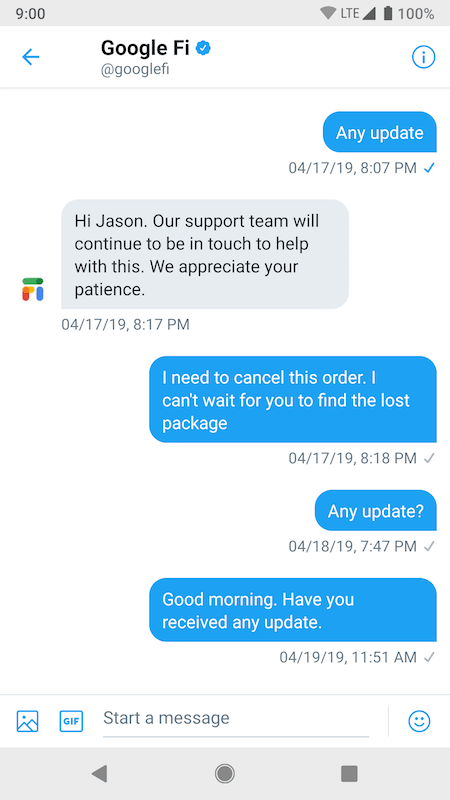 A week later I finally called them on the phone. It took explaining and re-explaining my situation to several representatives before I was escalated to "Chris" a supervisor. Chris was the first customer service rep to go "off script". He was incredibly apologetic and jumped into action to, as I asked, "Cancel my phone, issue a refund, then complete your investigation on your own time." He said "No problem. I'll get back to you in twenty minutes." Sure enough, after twenty minutes he called back. "Ok Jason, I've worked with my shipping specialist we've got a new phone on the way to you." I was getting upset at this point. However I remained calm and said "What I initially told you was that I wanted was to cancel the order. I no longer want this phone. I've been a month since you shipped the phone and I can't wait to get a new phone."
His response was that "It's too late. We've already processed this order. What you can do is just "refuse delivery" when Fedex delivers the package. It will get returned to us and then we can refund you." Wow I was stunned. It took them a month to handle this. They never once reached out to me. I always had to call them directly. Now that they are able to handle the situation they acted so fast that they can't even redact the order? If I had known how much worse it would get I would have forced them to cancel the shipment right then and there. It's not like in the twenty minutes since my first call with Chris that the package was already on a Fedex truck.
So I waited patiently for the new phone to arrive. I stayed home to make sure I was there when it was delivered. I had to politely tell my regular Fedex delivery man that I was refusing shipment. Luckily Fedex automatically provides return shipment tracking numbers. So over the next two days I watches as it was returned to Google and who signed for it. I thought that this would finally be the end of the situation. But no, it gets crazier.
Another week passed after they received my return. I never heard anything from them so I again called customer support. The customer service rep explained that they need to inspect the phone and make sure it's working/functional before a full refund. That sounded a little silly since it was in the same box. But in a way it did make sense. I'm sure lots of people scam/steal phones this way: order phone, open the package, remove phone, return empty package, and get refund all before seller realizes phone is missing. So I waited patiently for a few more days.
At this point I got busy and had to travel for work (more on this later). A week went by and I got my next bill. Again with the $35 charge for the phone I still don't have.
I called them again. This is when my frustration level hockey-sticked from "I'm mad but I'll probably stay a customer" to "This has to be a joke, right?".
I talked to one customer service rep and explained the whole situation. They agreed to transfer me to a supervisor. I then spent twenty minutes on hold while they waited to track one down. Eventually they said ,"We'll have supervisor call you in ten minutes". I said OK. After fifteen minutes passed I called them again.
I then talked to "Judy" who said they've escalated to shipping and returns department, and that I should expect an email. I had to force her to escalate me to a supervisor. This time, after 35 mins on hold the call dropped.
So I called back a third time. This time I talked to "Nico" who immediately tried to transfer me to a supervisor. Fifteen minutes on hold and the call dropped again.
This whole time I was on the phone with headphones and I was able to keep doing work at my computer. So I had no problem calling/waiting/calling/waiting until they put me through. So I called back a fourth time and talked with "Alicia" who finally transfers me to "Steven", a supervisor.
Steven says he'd look at my case and puts me on a brief ten minute hold. He comes back to say he was still having trouble finding the tracking numbers! I said, "No problem I have them right here in front of me." I read him the shipping/return numbers and he put me back on hold. I made sure he had my number is case we get disconnected.
I thought "Finally, this is it. I've reached a supervisor, I know they have my phone. I know it's been long enough to have checked it out. He'll just type a few lines in his terminal and boom I'll have a credit for $70 (two months of payments)."
Steven finally came back on the line to say he cannot refund me my money because the 'remittance period' had expired. At first I thought he was joking. I did a half-nervous laugh and then he explained that he was serious. Apparently Google Fi provides a three week window where customers can return a phone if they don't like it for whatever reason. For me, that date was the same day I first reached out to them on Twitter! So I asked Steven, "Back when I talked to Chris and asked him to cancel phone, and he sent me a new one anyways, that my remittance period had already expired? And that as a supervisor, Chris should have known that I couldn't actually return the phone. All of this is in-addition to the fact that I had not even received a phone yet?" He said yes. That is when I finally lost it.
I am proud to say that up to this point in my life, I had never cursed at a customer service rep, even over the phone. But I definitely dropped a few F-bombs and started yelling. In a heated voice I walked Steven through the full timeline:
3/20/2019: Order confirmed; order shipped
3/22/2019: Last known Fedex entry: "Friday , 3/22/2019 8:11 am NORCROSS, GA On FedEx vehicle for delivery"
Several dates first week in 4/2019: I chatted with at least three representatives. Each one said "expect an email in 24 hrs. It's being handled by our shipping department." Each time I never received an email. I had to then reach out to them. The last one finally gave me a case number.
4/9/2019 I receive my monthly bill. First bill with new charges for new phone
4/10/2019 Unbeknownst to me, my remittance period has expired. I can no longer send the phone back if I'm unhappy with it.
4/15/2019 I reached out to them on Twitter. They said "hang tight, we'll respond ASAP"
4/16/2019 I followed up on Twitter asking for status, Same "hang tight"
4/17/2019 I followed up on Twitter asking for status, Same "hang tight"
4/18/2019 I followed up on Twitter asking for status. No response
4/19/2019 I followed up on Twitter asking for status. No response
4/22/2019 I called them. I finally talked to a supervisor "Chris". They are sending me a new phone ASAP (which I did not ask for). Said it's too late to cancel, that my new order has already been processed, and that I need to just return the package when it arrives.
4/24/2019 Received package from FedEx, refused delivery
4/26/2019 Return package received by Google, says Fedex. Signed by XXX
5/1/2019 I called them: They need to inspect return phone before full refund
5/9/2019 I receive my monthly bill. Second bill with new charges for new phone.
5/15/2019 5:15pm On hold for 20 minutes. I finally have to escalate to supervisor. Trying to get supervisor, will callback in 10 minutes. No phone call. I call them after 15 minutes
5/15/2019 6:03pm Talked with Judy. Again she kept me on hold for 20 minutes to then come back and say "We've escalated this to shipping and refunds, they will send you an email." I have to force her to put her supervisor on the phone and only then does she actually do anything. While on hold (35 min at this point) the phone call just dropped.
5/15/2019 6:40 pm Talked with Nico, immediately tried to transfer me to supervisor. While on hold (12 min at this point) the phone call just dropped.
5/15/2019 7:05 pm Talked with Alicia who transferred me to Steven a supervisor.
At this point Steven reiterated that he did not have the authority to refund me after my remittance period and that he would escalate my case even further to his supervisor and that I should expect an email in a few days. I told him that I need to solve this problem right now and everyone along the way has promised me an email and then not delivered. I did not expect him to do anything differently. He essentially stoned walled me into hanging up.
As you can guess by now, two days went by and I didn't receive an email from Steven. So in a final attempt I called one last time. I talked to "Rod" an entry level customer support rep. I tried to immediately get transferred to a supervisor but Rod required me to walk through my entire case first. I was finally transferred to a supervisor "Persh".
I explained to Persch that I had been talking with Steven and had been expecting an email from him, that he promised me an email in two days. Her only response was "I don't know why Steven did that. I never give out a time about when people should expect an email."
At this point I'd already decided that unless they were going to fix the problem, now two months long, I was going to cancel my account. Now that they had the phone, I was only on the hook for $70 plus half a month's bill of unused data. So as before, I asked to speak to a customer retention specialist. Persh explained that they don't have a customer retention department. She said that Google Fi doesn't have contracts and its customers are free to cancel any time. She then walked me through how to cancel online. I thanked her for her time and hung up.
Lessons Learned
I want to be clear. I'm not looking for any sympathy. My grandfather always said "It's either a good time or a good story." Well this is (I hope) a good story, and maybe a lesson for people on both sides of customer service.
These kinds of problems don't happen on accident. This has to be systemic at Google Fi. The first thing I did was confirm that I'm not alone in my troubles with Google Fi:
"My beef is with the internal business structures and systems that Fi has built; or rather, not built."
"When I mentioned that it was not acceptable, and that would leave me no option but to leave Fi, she responded "you can cancel Fi any time" and incorporated the "how-to-leave" instructions in her email response."
"Getting this fixed is actually impossible"
I've had my fair share of bad customer support before. But eventually you work up the supervisor chain and somebody goes off script, realizes the mistake they've made, and in a very human way corrects the problem. This didn't happen at Google Fi. This is not the product of a few bad customer service reps. There have to be rules/systems/metrics in place that don't catch these mistakes or possibly even encourage them.
Customers don't differentiate branches of a company when thinking about brand identity. I had a problem with one branch of Google: Google Fi, but that jeopardized my entire opinion of the company. I love Google as a company. Most people probably don't say that. I pay for Google Fi, Google Fiber, Youtube Red, apps + in-app purchases through Google Play, Google Play Music subscription, and Nest products. My company pays for corporate Google apps (Gmail, Cal, Drive, etc.). Then there are all the Google services where I'm not the customer, I'm the product: Search, Chrome, Photos, and Google Home. The cherry on top is that as an Android developer, I was at Google's yearly developer conference while this was happening. I was literally at their headquarters in Mountain View, CA during some of this. I started looking into canceling some of the lesser-needed services like Music and Youtube Red.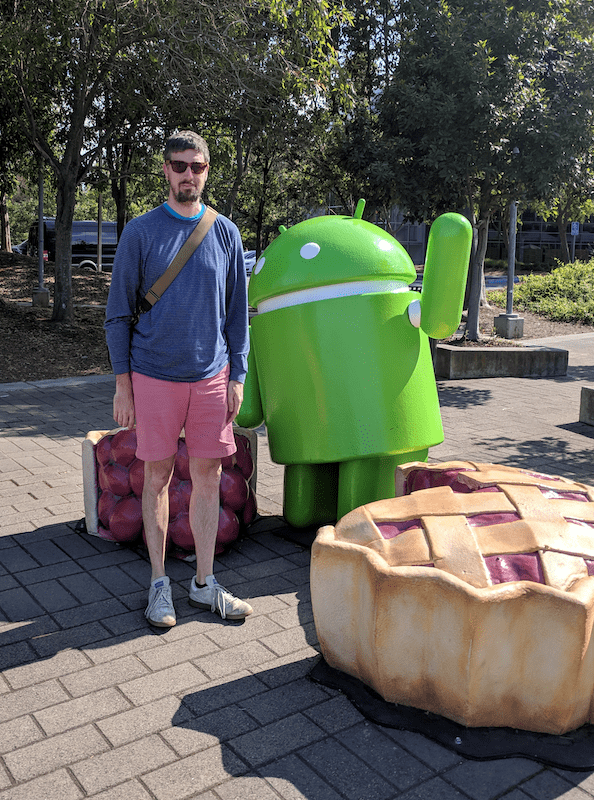 Escalate early. As soon as somebody in a customer service chat or email is not getting your problem solved call and talk to a real person. I wasted so much time by being a patient helpful customer. As soon as the first promised email did not arrive, I should have been on the phone getting real answers. It is so easy for someone in a chat to read off a script and blow you off.
As soon as a telephone support person tries to pass you off with a "somebody will email you" escalate to a supervisor. You goal is not to be patient. Your goal is to find someone who can solve your problem ASAP.
Document everything. Write down dates, times, conversation points, who will do what and when. Get peoples' names. Then if support drags on you can maintain some sanity and hold people accountable.
Don't lose your cool. I wish I hadn't cursed on the phone with that rep. It brought me down to their level. It was cathartic in the moment, but in the end I probably partially justified the bad service. I know if I'd been spoken to like that my reaction after hanging up would have been "Screw that guy. He deserves it."
You have to be willing to walk away from a company. This one is tough but you have to be willing to say "If you can't solve my problems I'm leaving." See what they say. If they don't bend over backwards to keep you then you know things are not going to get better.
This isn't a big, faceless company problem. The perfect example of this is Amazon. If you've ever interacted with Amazon customer service then you know how great it can be. Their initial reps are empowered to solve all sorts of problems and their one goal is to get you back to being happy ASAP. Lost a package? No problem; immediate refund. You don't like an item and want to return it? No problem; immediate refund.
Don't underestimate the value of a physical store. About a year ago I tried to get my parents to switch from AT&T to Google Fi. I even made a spreadsheet for my dad (who likes those sorts of things) about how much money he could save. He wasn't interested. His one point was that at anytime he can go in and get help from an AT&T rep. I kept asking "Who cares? Why would you ever need that?". Now I know. He was paying almost $60 a month premium for the opportunity to able to talk to a real person, face-to-face! I would gladly pay that now.
Going Forward
The silver lining in all of this is that instead of getting a year old Pixel 3, the process took so long that in the interim the Pixel 3A was released. So I just bought a 3A from where else.. Amazon. I also had to shop for cell plans for the first time in three years. I didn't realize how cheap plans have gotten. In that time I've used calls + text way less and data way more. So data-only plans are starting to look more appealing. Also $10/ Gb has become pretty standard.
All those extra things Google Fi is known for aren't that great after all. I was initially drawn in because Fi phones automagically jump carrier based on reception. Being the android developer I am, I wrote a little script to track which Mobile Network Code I'm connected to. Turns out I was on T-Mobile's network 90% of the time anyways. So a T-mobile contract-free plan was pretty comparable.
I also liked that Fi works in so many countries. I of course bought into this, thinking that I would travel all the time but honestly I haven't. Based on other reviews that I've read, it's easy to spend a bunch on Fi when traveling. It may work, but it's going to be very expensive. The next time I travel internationally I'll just pick up a pre-paid burner phone in the local country.
Having unlimited data allowed me to be on my phone all the time. Now that I have to think about my data usage a little bit it has really curbed my "junk time" on my phone. With all the focus lately about "Digital Wellbeing" and disconnecting from social media, the easiest way to do that is probably just limit your cell's data plan.
It's been a huge bummer that Google Fi screwed up so royally. I hope for other current and future customers that they can get it together.