Update: 3/1/2019
I wanted to retrace some of this trail today and it looks like the "cliff" section has been removed entirely. Take a look at the new trail map
Tuesday, I decided I needed an adventure so I threw together a little day hike. I have hiked the West Palisades Trail several times and decided to try the East Palisades Trail. The two trails wind through the east and west banks of the Chattahoochee river just inside Cobb County. The parks are within cycling distance of downtown.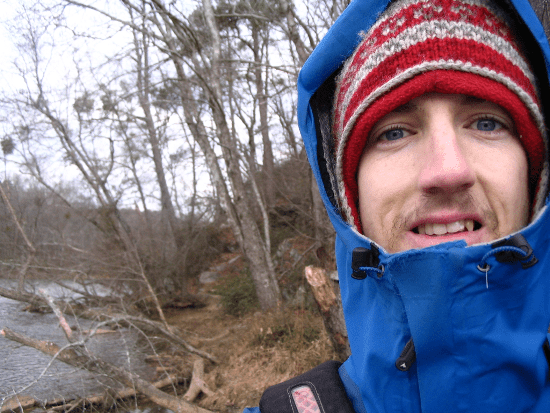 On the trail, freezing.

I packed a quick lunch, grabbed some trail running shoes, camera, water bottle and a map and headed out around noon. I set a return time of 4:30pm so that I wouldn't be out after dark. Getting to the tail head, I found that the East Park has far fewer amenities than the West: no bathroom, water fountain, or boat ramp. If I had planned on swimming I would have gone back to the West Park. The trails were very easy to navigate; a map and trail marker is placed at every junction.
The online map has a section along the banks labeled "cliffs" which isn't shown on the trailside maps. As I learned the hard way from hiking the west side, the Cliffs part means "not passable". The best locations to stop and enjoy the view or eat are either the lookout point (shown as "viewing area" on the map) or an old abandoned cabin which sits on the Chattahoochee alongside the aptly named Cabin Creek. Along with the dead end listed on the online map, there is another one listed on the trailside map. I didn't have time to explore up either so I can't comment on where they lead. I've added to the map the offshoot and the cabin (represented by an X).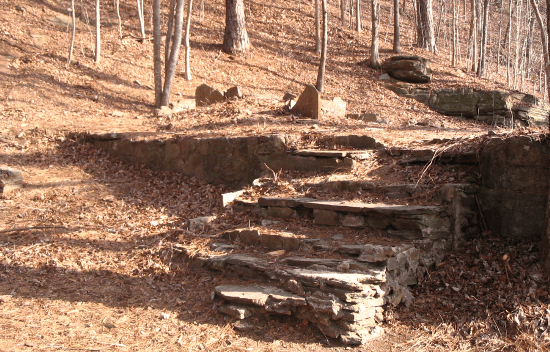 Remnants of an old cabin.
Despite the freezing temperatures, it was a very relaxing day and a great intown getaway. The trails are easy enough to make a really good, safe solo outing. I plan on hiking the entire trail and GPS tracking it this summer.
Links:
– My version of the trail map