This year's race was an interesting one. As always, I was worried in the days leading up to the race that something would go wrong or no one will donate any toys. Despite some setbacks, this year was perhaps a bigger success than previous years, but it took a lot of self-convincing before I was able to admit it.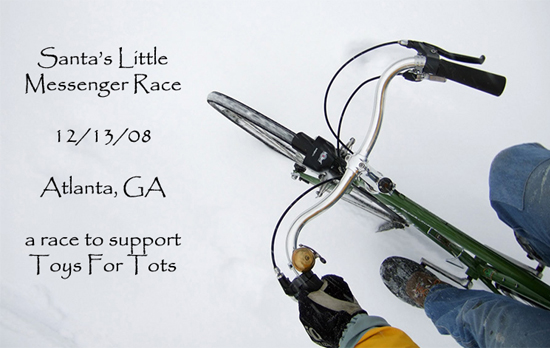 Race Flyer. Photography copyright Michael Lemberger.

This year Michael Lemberger supplied the photography for all of the flyers, website and spoke card. I really liked the bike on the snow image and thought it would fit nicely, especially since last year's race saw such nasty weather.
I chose Elliot Street Deli and Pub as the host for this year's race. Last year, as racers finished they had to sit around the Georgia State Bookstore cold, tired, and bored. This year I wanted them to be able to grab a beer and food while they waited for the other racers to finish. Mike and Pete were perhaps the shining aspect of this year's race. They were so pumped and helpful. They donated beer to all the toy donors and the racers. This race would never have happened without them.
Outback Bikes stepped up again. All of the race entry fees went to purchase $125 in gift certificates from Outback Bikes and an additional $20 from Elliot Street Pub. Furthermore, Outback Bikes donated twenty-five toys.
This year, I switched from a php webform which I had hand-coded last year to Google's Form Tool as part of Google Docs. The webform dumped information directly into a spreadsheet and would notify me as updates were made. It was absolutely easy and was the only major change to the website.
On the day of the race, twenty-three racers showed up to participate and fifty-seven toys had been donated. I was very scared and nervous during the hour-long registration immediately preceding the race. I knew that 2.5 toys per racer would create a short and very unfair race. I was getting very nervous and about to refund everyone their $5 entry fee and turn the race into a casual ride to collect the toys when my mind started pumping out a better solution. This was the most quick thinking, problem solving, situation ever. I knew that Outback's toy donations would be enough to allow each racer to pick up one toy and I had enough manifests for that location. I also knew that my friend Phi would be at her house (she had donated 15 toys) and that my coworker, Bobb, would be at Park Grounds Coffee Shop. As registration started, my friends Gabe, Eldon, and Rob all showed up to race. I asked them for clutch last minute favors and sent them to man check points at No Brakes, The Loft, and Jersey Mike's in midtown. I then instructed the racers that I was going to completely, on the spot change the format of the race to a straight up alley cat race.
Everyone was given an Outback Bikes manifest as their manifest for the entire race and told the remaining checkpoints. The rules were laid out that each rider had to go to Outback first to pick up a toy, then complete the remaining checkpoints in any order they decided, and finish at Elliot Street Pub. I started the race LeMans style and everyone took off towards their bikes and blasted down Edgewood Avenue towards Little Five Points.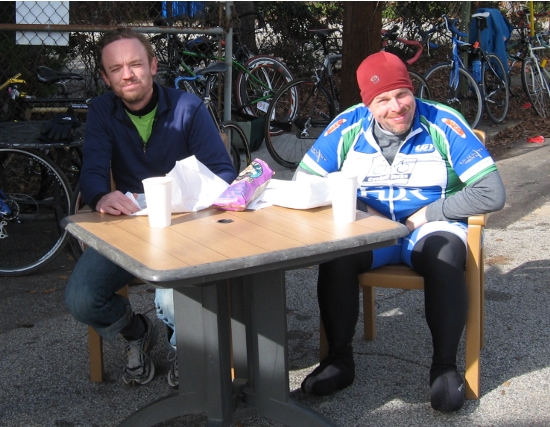 Stewart and Ben, tied for first. Copyright Kari Lindner.
After the start of the race, I made my way to Elliot Street and waited for the first riders to finish. While this was an individual race, riding together Ben Owens and Steward Haddock finished first, in just over an hour. Robert Donlan and Jim Hodgson finished together in second place, riding for FM: Race. Andy Harper finished third and the first to finish riding by himself. Laura Colbert was the first female and tied for sixth overall. Also worth mentioning, the other female participants, Sandy Saffold and Amy McCarthy, rode the entire race on mountain bikes!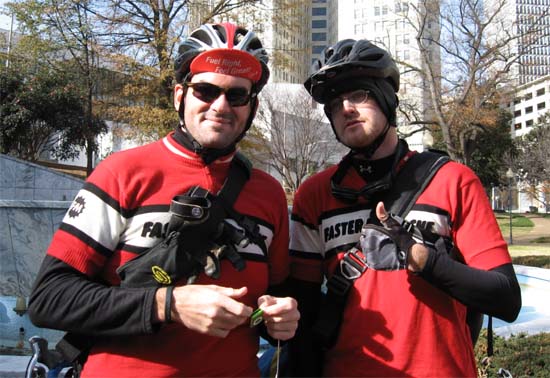 Robert and Jim, tied for second. Copyright Kari Lindner.
Everyone had a lot of fun and my last minute reorganization really paid off. Everyone, including me enjoyed drinking and eating at Elliot Street after the race. Everyone finished except three racers, who went M.I.A. I awarded the prizes immediately after the last racer finished instead of waiting til later in the night like previous years.
Later in the day, Julian and I rode around and retrieved the remaining few toys that were not picked up during the race. One lady had baked cookies and left them with her two donations; it wasn't until I saw her note that I finally let the stress go and enjoy all the hard work I had put into the event. I finally realized that despite the near-disaster, I did what I had set out to do: get toys donated to Toys For Tots and put on a bike race that everyone enjoyed.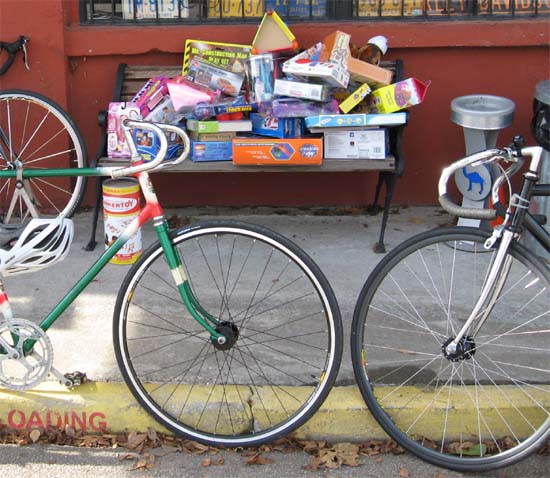 Some of the toys, stacked up outside Elliot Street Pub. Copyright Kari Lindner.
Links:
Kari Lindner's write-up and photographs.
Last year's website
Results