This weekend, I was part of Team Meerkat in the Atlanta Muddy Buddy with my friend Katie Davis. The race was held at the Georgia International Horse Park in Conyers, GA. We won our division (Coed 45 and Under) and placed 21st overall out of 740 teams which finished. The race is one in which a 6-7 mile course is divided into five stages. For each stage one teammate mountain bikes and the other runs. Then at the stage intervals, the teammates switch positions and carry on for the next stage. Teammates are not required to stick together. In fact Katie and I only saw each other twice through out the race.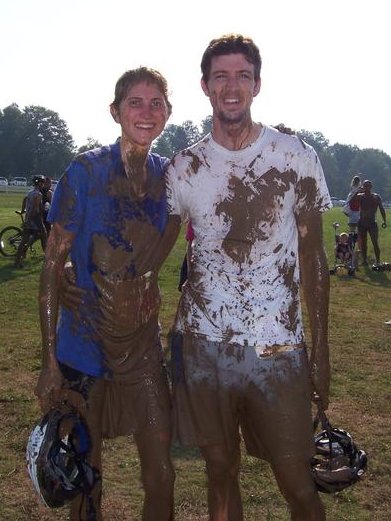 I started on the bike which meant I was responsible for riding three stages and running two. Inversely, Katie began running and was responsible for running three stages and cycling two. The runners were not allowed to start until two minutes after the cyclists left. I assume this was so that people on bike and on foot weren't falling all over each other at the start. The first stage was rather standard and really felt like a warm up for me. The second stage was quite technical for both running and riding. So after the second stage Katie had made up a minute on me; I waited less than a minute at the stage interval for her to show up with the bike. The third stage seemed quite short. It was very flat and fast. Halfway through the fourth stage (me running; Katie biking) Katie passed me and I knew I had to pick up my pace. The fifth stage began with a rather technical climb and quite a few riders were walking their bikes near the top. However the remaining portion was very fast and wide. The last portion had left the trails and was on a mowed down field and I was totally floating at this point.
Runners and riders were on the same trail and it was required that runners stay to the right. However, the courteous thing to do was also call out as you were passing a runner. During stages three and five I was smoking past everybody including some people on bikes. I think that a lot of competitors were in the same mindset through out the race: "a solid, steady, hard pace." However, I was feeling more like I needed to tough it out during the running, press hard on the hills while on the bike, and then hit top gear and fly downhill on the bike. I think a lot of teams could have made up time on the bike downhill sections. I only made one fault the entire time. Near the end of stage three I was making a sharp right turn on some pine straw and the bike slipped out from under me. I was already leaning in for the turn so I didn't fall very far. I was cut up on my arm and knee (later in the shower I would find that I had also cut my thigh). It was not a big deal and I was immediately back up on the bike. Katie, on the other hand ran and rode flawlessly. Having to run three legs and starting two minutes behind me, she definitely kicked my butt.
I had almost caught up to Katie by the end: the mud pit. Now I was quite comfortable getting dirty and gross but apparently the pit was lined on the bottom with gravel and rocks and our knees were completely torn up. We crossed the finish line and we were completely covered in mud. It was weighing down our clothes and my gloves were completely ruined. All in all, It was a great race. Our final time was 37:35.9, which was a lot lower than I expected. Katie and I both agreed that the course felt short. I had looked at race times from other cities and most winners in our division were clocking 45 minute times.
Team Meerkat will be back next year!