© demon cat
Back in February, I traveled to New York City to participate in Monstertrack and investigate the 3rd wave coffee shop scene. I drove up with my friends Seth, Gregg, and Chris. We left Atlanta at 4pm on Thursday and drove throughout the night, arriving in Manhattan about 10 am Friday morning. As soon as we pulled into the parking garage, we assembled our bikes and took off to explore the city. We had plans to stay with NY messengers Pablo and Victor, who were organizing the race, so first we dropped off most of our gear at Pablo's house in the Lower East Side.
The race, which wouldn't be until the next day, consisted of eleven checkpoints. Five of them were released on the internet several weeks prior, so the four of us decided to pinpoint their exact locations. Furthermore, I knew that I would need a bike helmet for the race so our next stop was one of the checkpoints: a track bike-only shop called Trackstar.

After Trackstar, we ate lunch at Crif Dogs in the East Village, rode down to the Financial District, got lost for 30 minutes, popped out at Battery Park, took the standard tourist-picture-with-the-Statue-of-Liberty and then hit the streets for more riding. We found the remaining Manhattan checkpoints: Bicytaxi on 5th Ave., Bicytaxi on Morton St., and City Bikes on 38th St.
Finally, we needed a break; especially after cruising up West Ave. during rush hour (which might have been the scariest ride and worst mistake all weekend). We headed back over to the East Village, to a coffe shop called 9th Street Espresso. There slogan accurately describes how minimalist (purist) of a shop they are: "No Drip. No Syrups. No Sizes." Their menu consists of eight espresso drinks and two sizes of French Press coffee, nothing else. This allows them to focus absolute attention on their espresso quality and presentation. I was very pleased with my drink and it reminded me of Matt's cappuccinos back at Octane: subtle and sweet, without much nutty taste.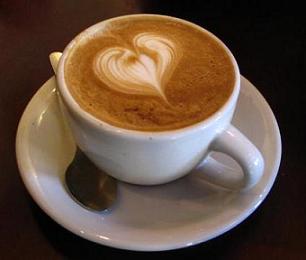 Cappuccino at 9th Street Espresso
After spending a lot of time drying out from the wet weather and accidentally meeting some bike kids from Connecticut (who would later prove to be Gregg and I's best competition) we rolled back to Pablo's to pick up our gear and head out to Brooklyn to register for the race, attend Amy Bolger's book signing, and see the Gold Sprints.
The next day (after crashing, last minute in a random hotel) we rode the train back into Manhattan and spent the morning preparing for the race. Gregg and I wanted to explore some more of Greenwich Village and visit Cafe Grumpy in Chelsea. This was my favorite coffee shop of the three I would end up visiting. Despite the minimalist layout, the tan woodwork and warm, pink ambiance made for a quite soothing and relaxing environment. I wanted to try a cup of coffee brewed on the Clover. Grumpy had a similar selection to Octane and I've been enjoying the Colombia La Golondrina Cauca, so I decided to have a cup. All of the flavors were more apparent and I was intrigued by watching the machine in action (they have separate clerks for the Clover and the espresso machine).
After leaving Grumpy, we decided to visit the Empire State Building since we weren't sure if we would have the opportunity to be this far north in Manhattan again in the weekend. Once we felt comfortable amidst all the tourists and saturday-shopping pedestrians, Gregg and I headed down to Sara D. Roosevelt park. When we arrived, Seth and Chris were already waiting along with approximately 30 other cyclists.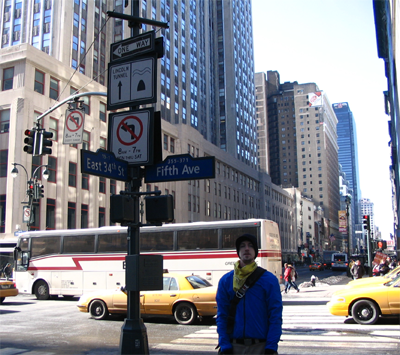 Me at the Empire State Building
Slowly, more racers arrived; it was fun seeing all the faces made famous by Red Light, Go! and Lucas Brunelle's videos. Once most of the racers had arrived, the race organizers moved everyone farther down the park into a mostly fenced-in soccer court (which was covered with snow). Everyone's bikes were lined up along the side walls and outside the fence, near the street. Everyone was instructed to select one of two Manhattan manifests. No matter which one a rider selected, his/her first stop would be 61st Street between Avenue A and 1st Avenue. The idea was that each rider could complete his/her first manifest, return to SDR park, exchange the completed manifest for the second Manhattan manifest, complete it (this time skipping 61st street), return again to SDR park, and pick up the Brooklyn manifest.
Once everyone had one of the two Manhattan manifest, we all lined up against the back wall of the court. There was definitely some nervous hesitation as we waited for the "Everybody, GO, NOW!" but when Victor and Mike D finally shouted out, the scene erupted into complete chaos: 180 riders all scrambling for their bikes. Those of us smart (lucky) enough to keep our bikes near the street were falling over those who were carrying their bikes out of the park.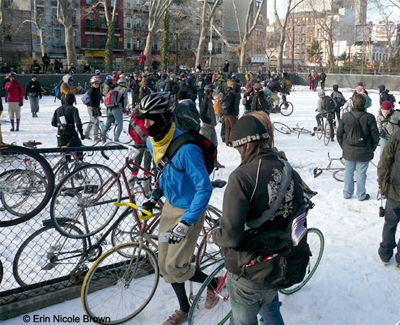 Getting my bike ready before the race
There is only one fast way from SDR to 61st St: straight up 1st Avenue. It was like Critical Mass in fast forward: one long string of riders. I would have hated to be a car trying to cross 1st Avenue; I would have waited at the intersection for ten minutes.
After the first stop, each rider was allowed to complete the remaining stops in any order, so groups were dispersing in several directions, making it difficult to know who was winning. Gregg and I were able to stay together through out both of the Manhattan stages, relying on both our brains to navigate the city and be on the look out for cars and pedestrians.
The sun was setting as we returned to SDR park to pick up the Brooklyn manifest. The first stop was actually on the way to the Williamsburg Bridge at Trackstar. Trackstar ended up being the best place to spectate the race. All the riders arrived in sequence, since it was the last stop in Manhattan, making it real easy to know who was beating who. After scrambling back into the street, Gregg and I attacked on the Williamsburg bridge. There are no hills in NYC so our daily riding through Atlanta gave us a serious edge as we sprinted up the bridge, overtaking six riders.
Once we dumped out into Brooklyn, I had some trouble navigating to King Kog and then to East River Bar (the finish). Gregg and several other riders, including the kid from Connecticut, over took me on a side street and bumped me down to a final 52nd place.
I was totally exhilarated and worn out after the race. Seth, Gregg, Chris, and I hung out at East River Bar for a while but decided to eat Chinese food again. It was so cold in the restaurant, as we waited for dinner, that we could see our breath.
After dinner, I wanted to visit the last coffee shop on my list: Gimme Coffee. It was late at night by the time we arrived; I was leading us and accidentally got lost. The vibe reminded me of Monday nights at Octane. I had visited the previous shops during the day/morning hours and I can now see how not serving alcohol can really affect a coffee shop's night business. Any given Saturday evening at Octane would have been three times as busy. All-in-all the space was rather drab and unstimulating. Yet, as I would later learn from my friend and coworker M'lissa, the owners built out the space on a $300 budget. However, they didn't compromise when it came to hiring a well trained, friendly staff. Even so close to closing time, they were spot-on: timing shots and paying attention to detail as if I were a weekday-morning regular customer. It could have been quite easy for the barista to slack off as she focused her attention on nightly cleaning duties. I was quite impressed with my cappuccino.
After dinner and coffee, we headed back to East River Bar. We waited around for several bands to finish playing before they posted race results. Our crew was tired and decided to hit the road back to Atlanta before we lost the last of our energy. The drive back was long and sleepy but we made it home alive, to race another day.
Videos:
[iframe src="https://www.youtube.com/v/roNA9BGk7h0″]
Monstertrack 8 Highlights Video
[iframe src="https://www.youtube.com/v/sy-vYu2Fjf4″]
Monstertrack 8 Start (Seth is the kid with the orange bag)
Links:
Monstertrack 8 Results