Now that its October and I'm on to my post-season beer and laziness celebration, I should recap this year's cycling adventures. After a successful year of track racing last year and taking a cue from my friend Chris Kelly, I made a list of goals for this year:
Compete in Wednesday night racing at Dick Lane Velodrome, not missing more than three nights.
Compete in all three Pro Race Series events at Dick Lane Velodrome and win points in one event.
Mountain bike as often as possible.
Use road riding as a training tool; don't get frustrated about performance.
Win the Faster Mustache 24 Hour Race, with team Dreadnok.
Compete in the cyclocross season, for fun.
Don't get out of shape in the winter.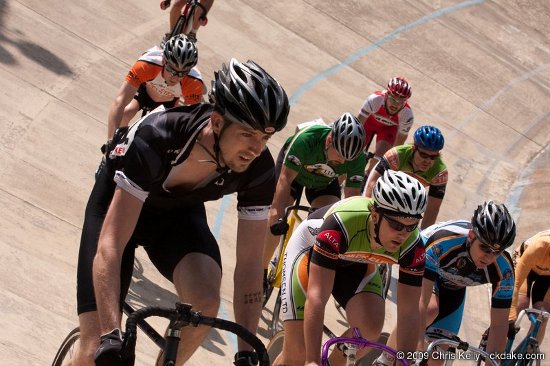 Second Pro Race Series. Photo by Chris Kelly

I started the track season in the C group and carried over 47 of the 84 points to advance to the B group. By the first Pro Race Series (PRS) I had earned the required points and it would be my first event with the B group! I was very nervous but got a lot of good advice from my Dreadnok teammate, Chris Schwartz, about staying calm and getting comfortable around new riders before being aggressive. The Pro Race events are split up into two days with 200m individual time trials, match sprints, and scratch races on Friday, and mass-start omnium events on Saturday. The first event is the 200m ITT and honestly I hate this race. I've never been good at solo events and a time of 14.09 seconds is nothing to be proud of. Luckily the rest of the night I was able to hold my own (i.e. not get lapped) on several scratch races with pro level guys. Saturday went much smoother as I sat back and watched how different people moved around the track finishing midpack on most events.
I started the year in a 86 in. gear and as the season progressed I realized that this was just too low to be competitive at the track. Midway through the year I upgraded my cranks and upped to an 88 in. gear. Most people run a 90 or 92 but I didn't want to hurt myself by making such a big jump and spent most of the season in this gear ratio. I was slowly improving throughout the summer but it was evident that so was everyone else =P. The season went on with me gaining a lot of experience. On the track, there is such an advantage from drafting another rider. Once a gap has opened up, it becomes so much harder to maintain speed that riders will fight to keep the wheel of the rider in front of them. I spent most of the season learning and practicing this.
When the second Pro Race event came around in July, i was more ready than the first. I skipped the Friday events to focus on the mass-start events on Saturday. I consistently finished in the 7th-10th place range. I also had the pleasure of sitting in during the Bicycle Little League races and taking some sweet POV footage.
I continued to improve, riding stronger and smarter, as the season went on. One of the things I had been practicing all year was watching my breathing and resting at every possible point. At all time I wanted to be at full effort or at least effort, saving my energy for when I needed it. There were plenty of times when I would be pulling the pack around the track for two or three laps in the middle of the race and then have zero energy for the sprint at the end. It was these times that I needed to learn from.
Sadly the third Pro Race Event was rained out and by that time I had upgraded to a 90 in. gear and was feeling very competitive. I'd like to think that I would have scored points in one of these races.
This year my best race, statistically was the chariot race, a one lap, standing start, 6-8 rider race. Its basically a one lap drag race; very fun and very quick. My worst/least favorite was the 8 mile record race. One thing I want to focus on next year is staying with the lead pack on the long races. By the end of the season, I was 11th in B group points, my best Wednesday omnium finish was 5th, and I had won a chariot race.
My other racing goal was to win the Faster Mustache 24 hour race. Team Dreadnok had placed second the last two years and this year we fielded a stronger team. Sadly, there is always a team that is faster and that day, they decided to show up. All of their riders were Cat 1/2 road racers, most of whom will be pros when they graduate college.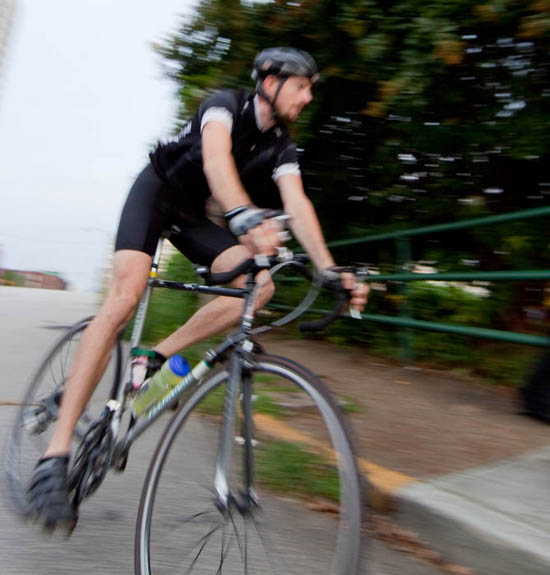 FM.24.09
I said from the beginning that our combined experience in this race was our best weapon and I was right. We rode a flawless race. From the beginning of the race we had the fastest route; there was minimal need to tweak it throughout the night. We also had the perfect rotation. We started the race on a six man rotation. As with the last three years, I took the first lap. At midnight we switched to a two man rotation for four hours so that four people could sleep. Then we switched and the two people sleep while four people rode. Then around 9am, each rider did one lap to finish. We changed the strategy for the last three laps because we thought we could squeeze in four fast laps if we each did partial laps. Rob, Austin, Erick, and I each took position around the course and did a relay, each taking the baton only a portion of the lap. Although we were unable to squeeze in the fourth lap, our strategy was still a good one. Usually one rider would end up doing one lap more than everyone else and this strategy evened things out. Also, our times during the relay were faster than the average of Austin, Rob, Erick, and I's solo times.
My personal goal for the race was to be the fourth fastest on our team and I pushed through some serious pain to accomplish that. After Julian's second lap he was beating me for fourth fastest time by several seconds. I was pissed and really ripped out a fast third lap. I was smoking the whole time and coming into the start/finish from the last check point, I was in another world, totally focused and cold sweating. I rolled in at 36:38 and took 30 seconds off Julian's time! I was mad pumped. The rest of the night I was rolling 37-38 minute laps but kept 4th fastest. Rob and I were the two graveyard shift riders and it was mesmerizing after my last lap at 4am. I was totally blasted.
We finished in second place again but we all agreed that our race was a success. The team we fielded this year surely would have won last year. Some post-race calculations showed that we were only 1-2% slower than the winning team. This was also the first year where we were both fighting to gain a position and fighting to keep a position. The third place team came within 20 minutes of catching us. After doing this race for all five years of its existence, I'm certain that this was the best.
I also competed in some other races this year. Chris Kelly convinced me to ride the Georgia State Championship mountain bike race at Falling Waters Lodge in Elijay. This race really sucked and I didn't want this to be my first foray back into mountain bike racing since the 2007 Muddy Buddy. The course was awful: the first mile was straight up hill on a paved road and the last mile was mowed down grass through a pasture! As I was finishing my first of two laps and just as I had convinced myself that I could climb that road again, I snapped my chain and smacked into the handlebars. I got my self together and coasted into the finish, running my bike over the start/finish line. Chris said after the race that it was the worst mountain biking he'd ever done.
I also raced in one Alley Cat this year, despite making a decision last year not to race in them anymore. It was a good chance to train for the 24 hour race so Rob and I rode in No Brake's second anniversary race. Rob and I placed 1st and 2nd respectively, and it was a fun mental boost going into the 24 hour race.
This was also the first year that I participated in regular weekly rides. At one point I was riding Monday – Thursday. I had track practice on Monday's, late-night, secret intown mountain biking on Tuesday's, track racing on Wednesday's, and FM:Race road ride on Thursdays.
This year, I've also managed to have most of my bikes working all the time. I've resurrected my mountain bike and converted it to single speed. My commuter received much needed upgrades and I flipped the fixed hub over to free. My pub crawler was tuned for maximum comfort. My road and track bikes were kept in working order.
While there are two more months of 2009 left, I plan on enjoying riding and not getting into too much of a training mentality. My regular riding will be commuting to work and Tuesday night mountain biking. I am also going to compete in the Georgia cyclocross season in both the Cat3/4 and single speed categories.
Next year will be my year to really excel at the velodrome. With my equipment situation worked out, I am finally in a position in which my skill is the only limiting factor in performance. I also have a team mate lined up for next year and I look forward to the two of us working together, keeping each other motivated and owning on all the other B group riders.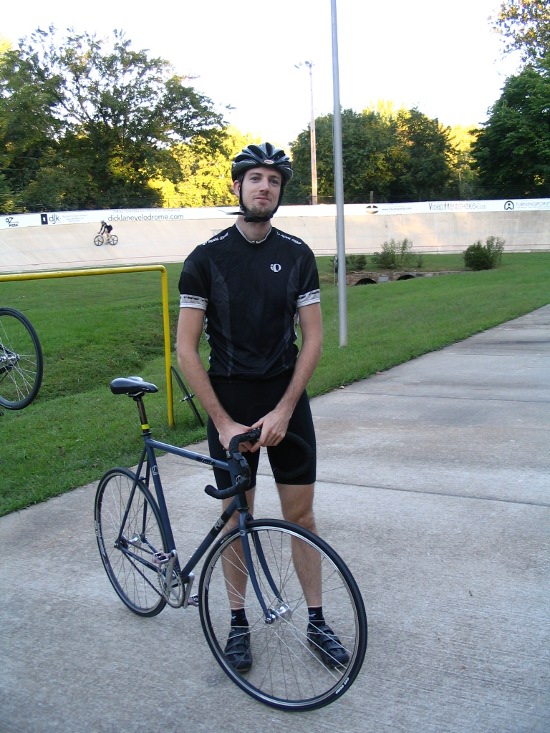 At the velodrome.