Instead of waiting until the end of the year and writing a single recap, I'm going to split this year up into three separate posts, the first of the year being this one.
My plan for this year is to again focus on track racing by taking what I've learned and built up last year and improve, to be one of the more competitive amateur racers at Dick Lane Velodrome. To help with this, and to make the racing more enjoyable, I've teamed up with Chris Kelly and Faster Mustache: Race. I've been friends with most of the team for many years, but finally decided to join the race team this year. The team attitude has kept me motivated to ride more and added a new level of tactics to racing.
My goals this year are to place consistently in the Pro Race Series events at Dick Lane and do exceptionally well in the Working Man's Madison<. New this year to Dick Lane's results are a separate team competition which combines team members' points on Wednesday races throughout the year.
This last weekend was the first Pro Race Event and I rode fairly well. I recently upgraded to lighter, more aerodynamic wheels and I'm still adjusting to them. On the Friday night sprints, I matched my best 200 m time of 13.44 seconds, despite feeling slow. Additionally, well-played team tactics put my teammates Chris and Justin into 1st and 2nd positions in our 10 lap scratch race.
On Saturday's omnium, I placed 8th overall and scored my first points in this event (I rode two such events last year). I can feel that I have a lot of improvements yet to make. With most of the season ahead of me, I'm excited about preparing for the rest of the year.

Going the distance at the track. Photo by John Woodruff.

In addition to the track, I have managed to find myself in the thick of a competition for "Atlanta's Fastest Alley Cat Racer" as part of the Atlanta Alley Cat Series. After five races, I'm in fifth place and poised to move up to fourth. For all of my non-track racing, I'm still riding for my own team, Dreadnok. Teammate, Rob Evans, and I are doing very well in the series with a win in the 6th annual Broken Hearts and Bicycle Parts race and nothing but top five finishes in the rest.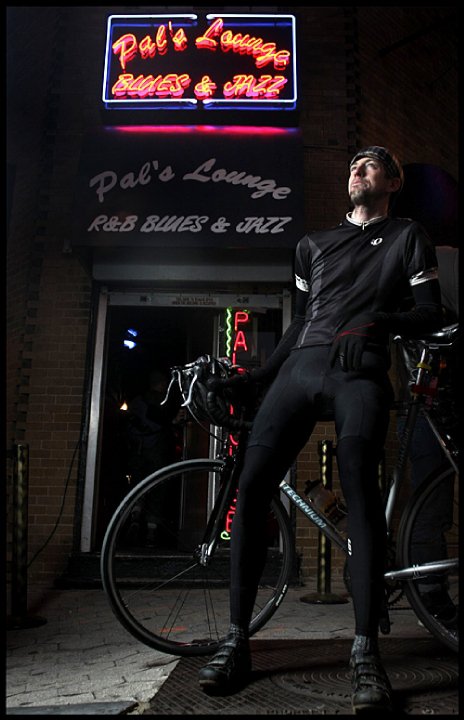 After the Black History Alley Cat. Photo by Alexander Acosta.
Not to be bored with bikes, I've tried my hand at several other riding and racing events. I'm riding mountain bikes 1-2 times a week either at intown secret trails or around north Georgia. I competed in March's Snake Creek Gap Time Trial and finished with a respectable time of 2 hours 37 minutes in the 17 mile, single speed category. The Snake was the most brutal race I've ever done. I probably had to hike two of the seventeen miles and almost destroyed my bike in the process.
I have always been hesitant to start racing road bikes because I think its a slippery slope. I expect that once I start, it wouldn't be long before I'm racing every weekend and spending ungodly amounts of money on newer, faster gear. That being said, I couldn't turn down the chance to race the Boone Roubaix in Boone, North Carolina. The format was that of a 34 mile road race with ~ 7 miles of unpaved roads. I felt very proud of my effort, finishing mid pack despite a flat at mile 10. This was probably the longest non-stop riding I've ever done and I really can't wait to do it again. It was fun taking my track skills to the road and focusing on drafting and conserving energy.
Very rarely do I force myself to get up before the sun rises, but one cold rainy Sunday in March I escorted a wheelchair racer in the Atlanta ING half marathon. It was an amazing event seeing these guys cover 13 miles of Atlanta hills and streets under nothing but arm power. My racer wrecked 80% of the way into the race, only to have me flip him back over and finish the race on a flat tire with broken steering. What a champ.
With two more Pro Race Events left, untold amounts of mountain biking, and a potential secret, yet-unorganized race near the end of the year, I'll have much more to report about. So stay tuned.