I painted another pair of shoes, this time for my friend, Jaime Walker. I call them "walkers". Rather lame, I know. I started with Vans KVD's, courtesy of Rená at Abbadabba's. I used the same brand paint as previous shoes and added purple tulips with green stems. I then outlined the flowers with a fine-tip permanent marker. I began by using a "very fine" tip, however the paint dried out the marker tip. I then switched to a fatter "fine" tip marker and with enough finesse, I was still able to draw very thin lines.
I decided not to dye them because I have had problems with other shoe-dying projects lately. When dying bright colors such as red and navy blue, both the canvas and the rubber changed color. Also, as I learned the hard way, it is impossible to bleach black canvas Vans white. I tried to make white shoes with black soles by starting with the black/black Vans slip ons. The fabric disintegrates very quickly and begins to rip after coming into direct contact with bleach.
Anyways, I learned a lot during this project about delicacy and patience. Its not easy to fix a mistake on white canvas. Slight smudges of purple are obvious in one of pictures below.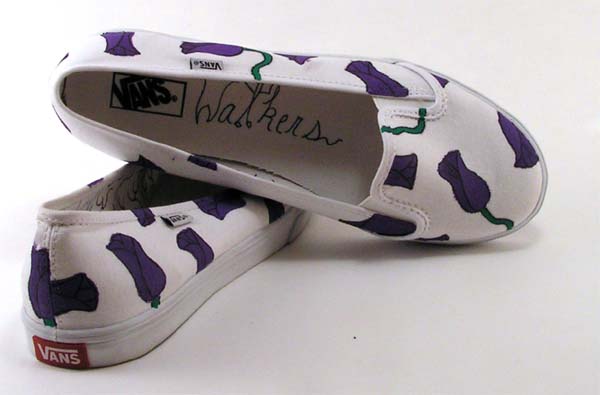 Continue reading "More Shoes and Light Tent" →